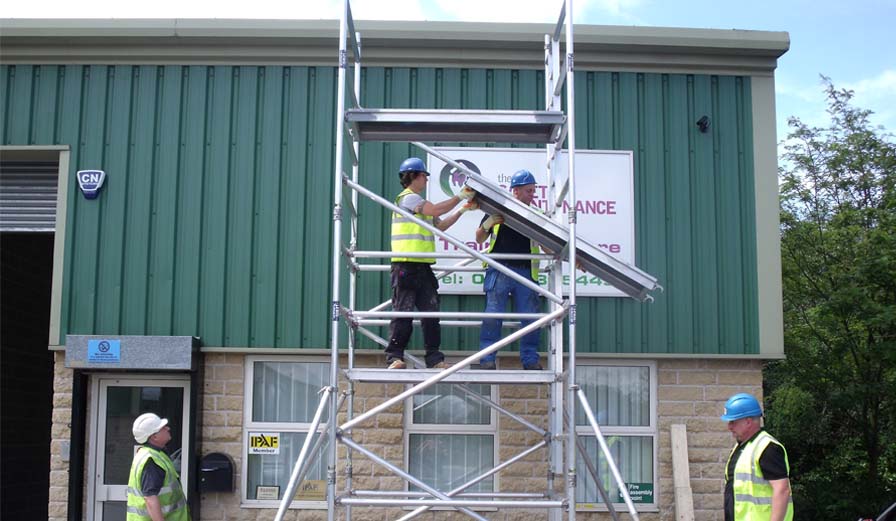 The Prefabricated Access Suppliers' and Manufacturers' Association (PASMA) is one of the most highly recognised organisations for health and safety standards for the use of mobile access towers. They provide the very best training schemes in the industry, each of which provides workforce members with the skills and knowledge needed to successfully carry out their roles with mobile access towers.
As an employer or manager of a team that makes use of these platforms, it's vital that you're aware of the various PASMA certificates, how they can be used, and which employees would be most suitable to be sent on these courses. Read on to find out more about PASMA training schemes and certification, as well as the benefits businesses can see for investing in these schemes.
Work at Height Essentials
Any worker who is expected to work at a height at any point during their employment, or anyone supervising team members working from a height, should be sent on the PASMA Work at Height Essentials course. As a short half day course, it takes very little time out of working hours and will certainly improve your team's health and safety knowledge of working in these conditions.
The course will cover all essential safety areas of working at a height. From using mobile access towers to the use of access equipment, individuals will learn what safety measures are expected from them as well as the consequences of failing to meet these standards.
Tower for Users
This is the most popular course from the range of PASMA training schemes, with around 70,000 individuals taking part in the training every year. In just one day, workers can learn how to safely assemble, dismantle, move and inspect mobile access towers, without risking the health and safety of themselves and others around them.
This is an important part of an employee's training, if they are expected to be carrying out these duties as part of their role. Inviting an employee to take part in this course will drastically improve the health and safety aspect of your business' daily operations.
Low Level Access
The PASMA Low Level Access course runs for half a day and focuses on health and safety regulations and processes for using low level access equipment of 2.5m or smaller.
The course focuses on equipment such as folding step units and folding tower units, beginning with theory being the safe use of this equipment and followed on with practical workshops to implement knowledge built from the information provided. Employees will learn how to properly assemble, dismantle and use low level access units and successful completion of the course means that are recognised as being safe enough to carry out this role as part of their daily work.
There's also a combined tower for users and low level access course available from PASMA, should employees wish to give employees the chance to earn both qualifications.
Towers on Stairs
This day long course focuses on how to build stepped towers, including the proper process for doing so, the risks to be aware of and the hazards of using this type of equipment. The training scheme includes and theory elements and a practical element as well, so you can rest assured that employees are gaining the necessary knowledge as well as being taught the skills to successfully carry out this task in their day to day job.
Towers with Cantilevers
This is an advanced course offered by PASMA, aimed at anyone who will be responsible for the assembly, use, dismantling and moving of a mobile access tower with cantilever. This role requires a lot more thought and calculation than the use of other mobile access towers, which individuals will learn more about on the course. Individuals will also be given information on what's required for complex tower structures, paying close attention to legislation and regulation.
Employers should consider sending anyone they intend to give this responsibility to on their own site, to take part in this course.
Due to the more complex skills and knowledge required to successfully qualify from this course, partakers must complete the Tower for Users course before signing up to this course.
Towers for Managers
Employers must consider sending potential managers and supervisors on this PASMA course, in order for these individuals to begin overseeing the work on employees working on site at a height.
Held over just one day, future managers and supervisors will learn everything they need to know about assembling, dismantling, changing, moving and inspecting mobile access towers, in a way that prevents injury to themselves and others in the area. It will also ensure these individuals know how to plan and organise the use of mobile access towers between multiple team members on site.
Investing the time, money and effort into training team members and helping them to gain PASMA certification, is a surefire way of drastically improving a site's health and safety processes, particularly when working at a height. The vast majority of PASMA certificates are valid for 5 years after completion, and with most of them taking between half a day and one day to complete, you can see it's certainly worth considering.
Take the time to assess the elements of each PASMA course, before deciding who on your workforce is best suited to each. From there, you can take the necessary steps towards building your team's skills and knowledge and improving the safety of your workplace environment.